Description
Simple fish fry made with Wild Salmon fillet. These are available in walmart under frozen aisle. In my quest to find a perfect match in Tamil, I ended up going here, seems it belong to this species "
Eleutheronema tetradactylum
"  which in tamil is Kaala /
காலா
. Check this link
http://www.fishbase.org/comnames/CommonNamesList.php?ID=340&GenusName=Eleutheronema&SpeciesName=tetradactylum&StockCode=354
http://www.fishbase.org/Summary/SpeciesSummary.php?id=340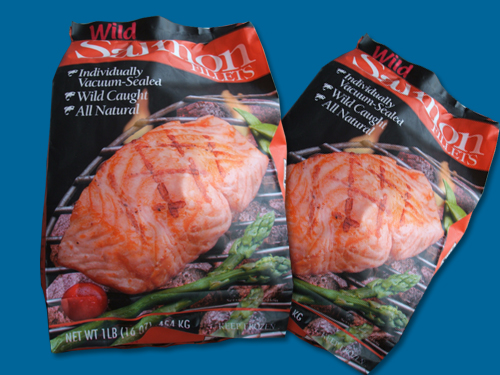 Even though I've had this in different styles, still was little skeptical about trying it in Indian style with its flesh being all reddish orange. But to my surprise it was pretty good and suited well for our Indian style fish fry. These fillets are quite dense with firm texture, very fleshy. Once cooked the flesh turns to light pink, very flaky, mild and mellow.
Kaala Meen Varuval / Salmon Fish Fry / Meen varuval / Fish Fry / Chepa Vepudu / Blackened Salmon / Kala meen / PaniKaala / Indian Salmon
| Ingredients | |
| --- | --- |
| 1 no | Salmon fillet |
| 1 tsp | Red chili powder |
| ½ tsp | Coriander powder |
| ¼ tsp | Turmeric powder |
| 1 tsp | Lemon juice |
| 1 tsp | Yogurt (plain) |
| ½ tsp | Salt |
| ½ tsp | Ginger garlic paste |
| 2 tbsp | Oil |
Instructions
Wash the fillet and keep aside. Combine red chili powder, coriander powder, turmeric powder, salt, lemon juice, yogurt and ginger garlic paste in a bowl. Make a thick paste and apply all over the fish. Heat oil in a frying pan, place the fish and fry over medium flame, I usually cover with a lid for few minutes to cook it perfectly and brown the bottom. Flip to the other side and cook for another minute or until its perfectly blackened. Switch off, serve as a side for any rice item. Simply delicious with rasam sadam.
Notes
Yield: One fillet serves two adults.
You can also use this recipe for fresh fillets or salmon steaks.